Regular price
$12.00 USD
Sale price
$12.00 USD
Unit price
per
Sale
Sold out
Share
Your car is missing something. Don't worry, we have it! Make your interior look and smell amazing with a hanging car diffuser from Yuzu Leaf Co. Our car diffusers are made with high-quality, non-toxic, skin-safe fragrance oils and feature a clear square vial with a wood top. Choose from our entire catalog of signature scents and find the perfect fragrance for your commute. You spend so much time in your car, so it's better to enjoy your time. End boring car rides once and for all with a Yuzu Leaf Co. hanging car diffuser.
1 x 8mL hanging car diffuser filled with the scent of your choice - $12
1 x 1oz diffuser refill frosted glass bottle with dropper - $15
1 x 8mL filled car diffuser + 1 x 1oz diffuser refill - $25 bundle deal
SIGNATURE COLLECTION:

Earl Grey:
• Top: Bergamot
• Middle: Lime, Earl Grey Tea Leaves, Cucumber
• Base: Amber, Musk

Refresh:
• Top: Bergamot, Yuzu, Mandarin, Grapefruit, Satsuma
• Middle: Cardamom, White Tea, Jasmine
• Base: Amber, Oakmoss, Tonka Bean, Musk

Missing You:
• Top: Bergamot, Camphor, Heliotrope
• Middle: Bay Leaf, Vanilla, Fir Needle
• Base: Tobacco, Oak, Sandalwood, Patchouli

Kitchen Window:
• Top: Pine, Eucalyptus, Bergamot
• Middle: Rosemary, Lavender
• Base: Sage, Cedar

Relax:
• Top: Lemon, Apple
• Middle: Jasmine, Lily, Rain Water, Peach, Rose
• Base: Amber, Sandalwood, Musk

Hanayuzu:
• Top: Yuzu, Pear, Mandarin
• Middle: Ylang Ylang, Plum Blossom
• Base: Hinoki, Apricot Wood, Patchouli

Cashmere Shawl:
• Top: Pear, Bergamot, Peach Blossom
• Middle: Warm Amber, Jasmine, Cashmere, Plum
• Base: Musk, Sheer Vanilla, Sandalwood, Sugar, Freesia

Dusty Rose:
• Top: Citrus, Apricot, Plum
• Middle: Rose, Jasmine, Saffron
• Base: Sandalwood, Vanilla, Oak, Patchouli

Unwind:
• Top: Orange Marmalade, Tamarind, Honey, Bergamot
• Middle: Bourbon, Coumarin, Clove, Cedarwood, Bay Leaf
• Base: Brown Sugar, Tobacco

Sweet Citrus:
• Top: Orange, Lemon, Satsuma, Yuzu
• Middle: Grapefruit, Peach, Bergamot
• Base: Red Currant, Vanilla, Oakmoss

Lychee Tea:
• Top: Lily, Geranium
• Middle: Red Tea
• Base: Lychee

Lavender Latte:
• Top: Chocolate
• Middle: Honey, Lavender, Bergamot, Almond, Coconut, Caramel
• Base: Maple, Vanilla, Roasted Coffee Beans, Sugar

Adoration:
• Top: Pink Peppercorn, Grapefruit, Plum
• Middle: Black Rose, Cumin
• Base: Vanilla, Patchouli, Labdanum

SPRING COLLECTION:
Sunshine: 
• Top: Citrus, Basil, Petitgrain, Bergamot
• Middle: Orange Peel, Mint, Chamomile, Jasmine, Neroli, Orange Blossom
• Base: Agave, Tomato Leaf, Sandalwood

Flower Garden
• Top: Grapefruit, White Lily, Rose
• Middle: Gardenia, Jasmine, Cedarwood, Ylang Ylang
• Base: Sandalwood, Vanilla

Farmers Market
• Top: Lemon, Tomato Leaf
• Middle: Sage, Basil, Thyme, Lemongrass
• Base: Green Leaves, Moss
Hanging Car Diffuset
Best car diffuser I ever tried. The scent is so light and just perfect. It is not an articial smell or overpowering. The kitchen scent us so clean smelling.
Nice item and fast shipping!
Nice item and fast shipping!
I like the size and shape.
I like the size and shape.
View full details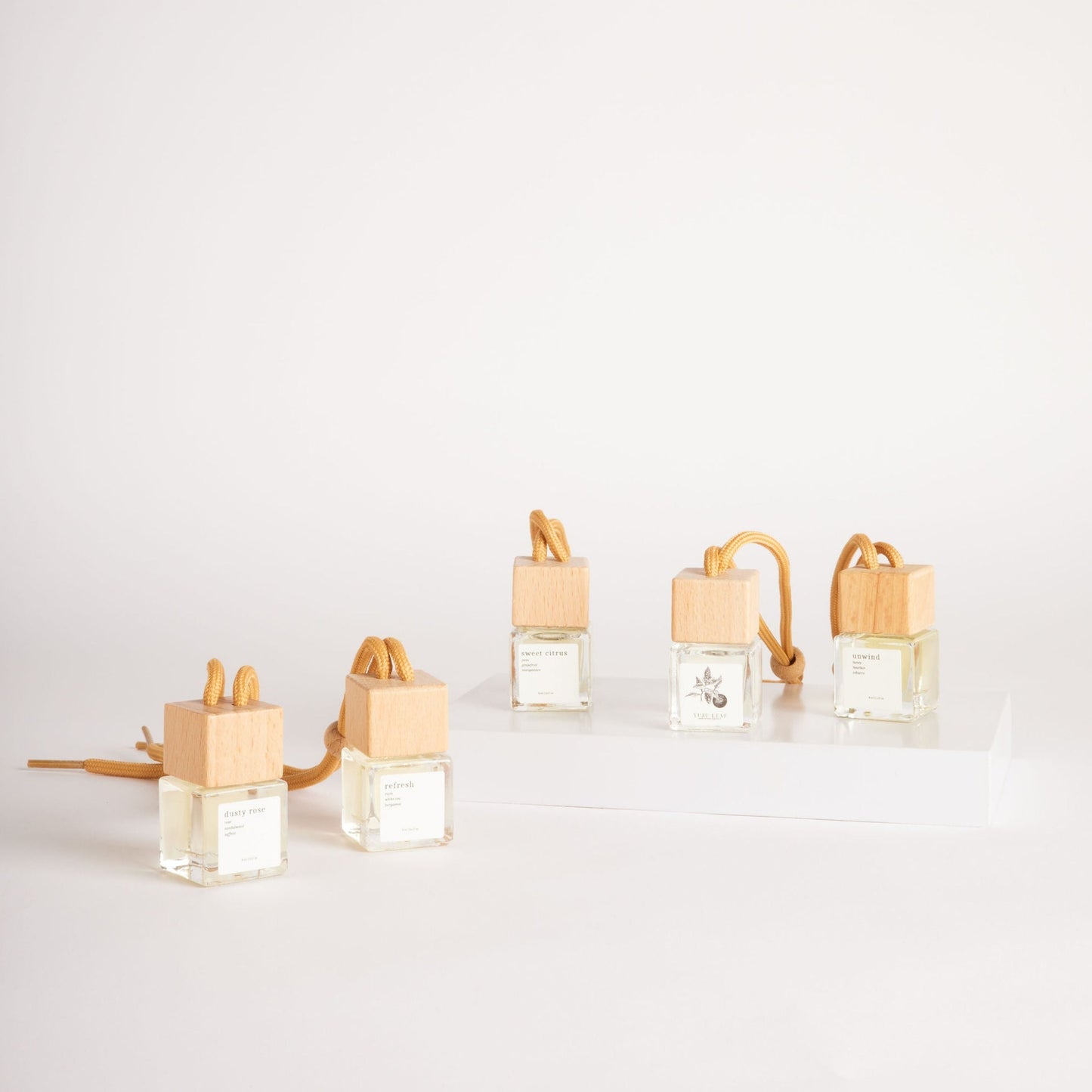 Collapsible content
Care Instructions

In order to start using your car diffuser, you must remove the wood lid and then the plastic stopper on the inside. After screwing the wood lid back on, you may flip over the diffuser for 1-2 seconds maximum to lightly coat the wood lid. The fragrance diffuses from the wood lid and you can flip it over periodically to refresh the scent (1 diffuser lasts 2-4 weeks). You may choose to put the stopper back on for extra safety. Be careful when handling the diffuser because the oil-based fragrance may spill from the vial opening when tipped over. Do not oversaturate the lid with diffuser oil. Do not get the diffuser oil in your eyes or ingest. Keep it away from small children and pets.
Materials

Our car diffusers are made with a 50/50 blend of diffuser carrier oil and high quality, phthalate-free fragrances. All these ingredients are skin-safe. While it's not intended for topical use, you also won't have to worry about it being toxic. The car diffuser bottles are clear glass vials, topped with a natrual wood cap.
Shipping & Returns

Please allow around 3-5 business days for your order to be processed. If there are any issues with your order, please contact us immediately. We accept returns and exchanges within 30 days of purchase.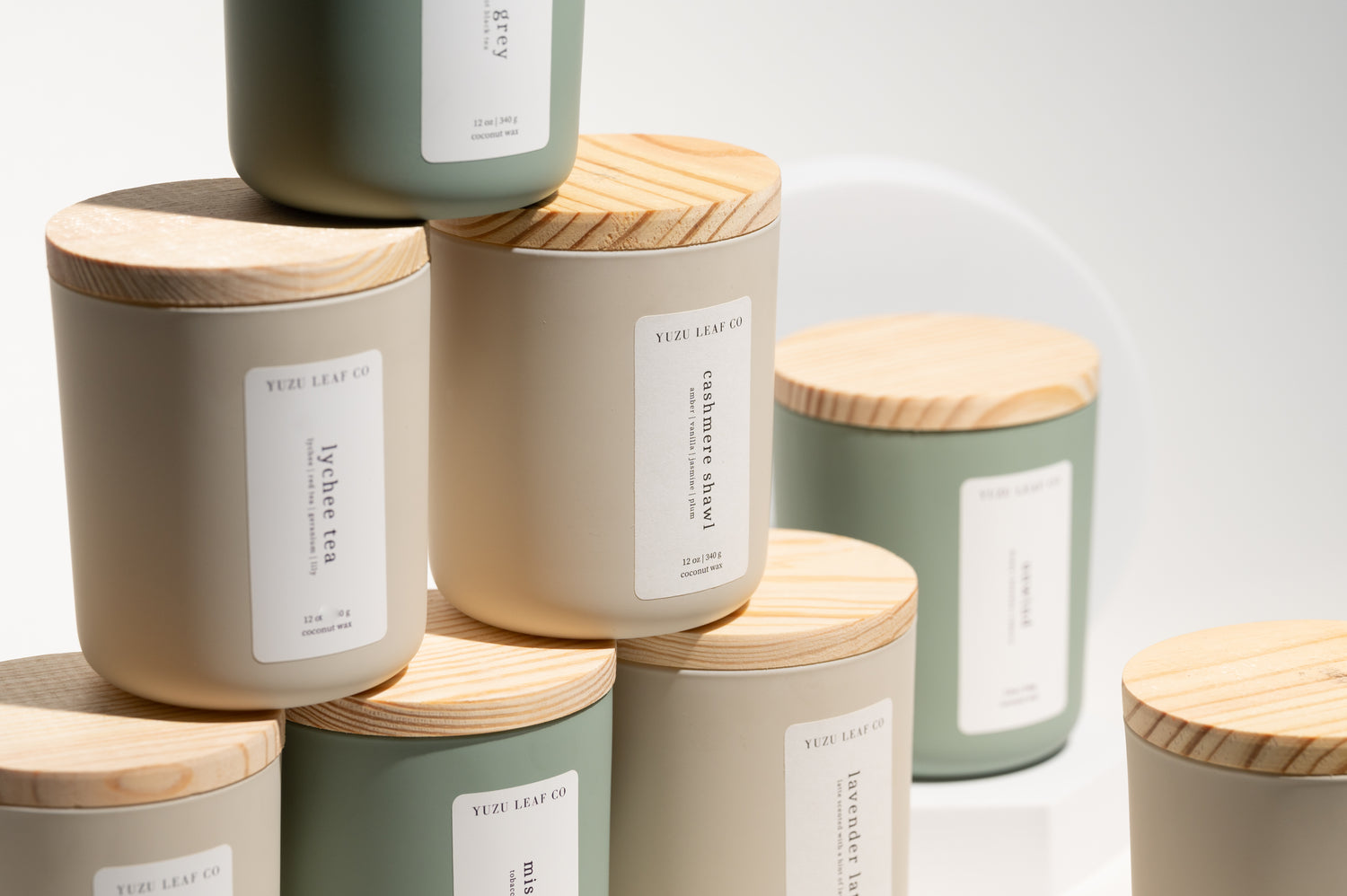 Deluxe Wooden Wick Candles
You Deserve the Best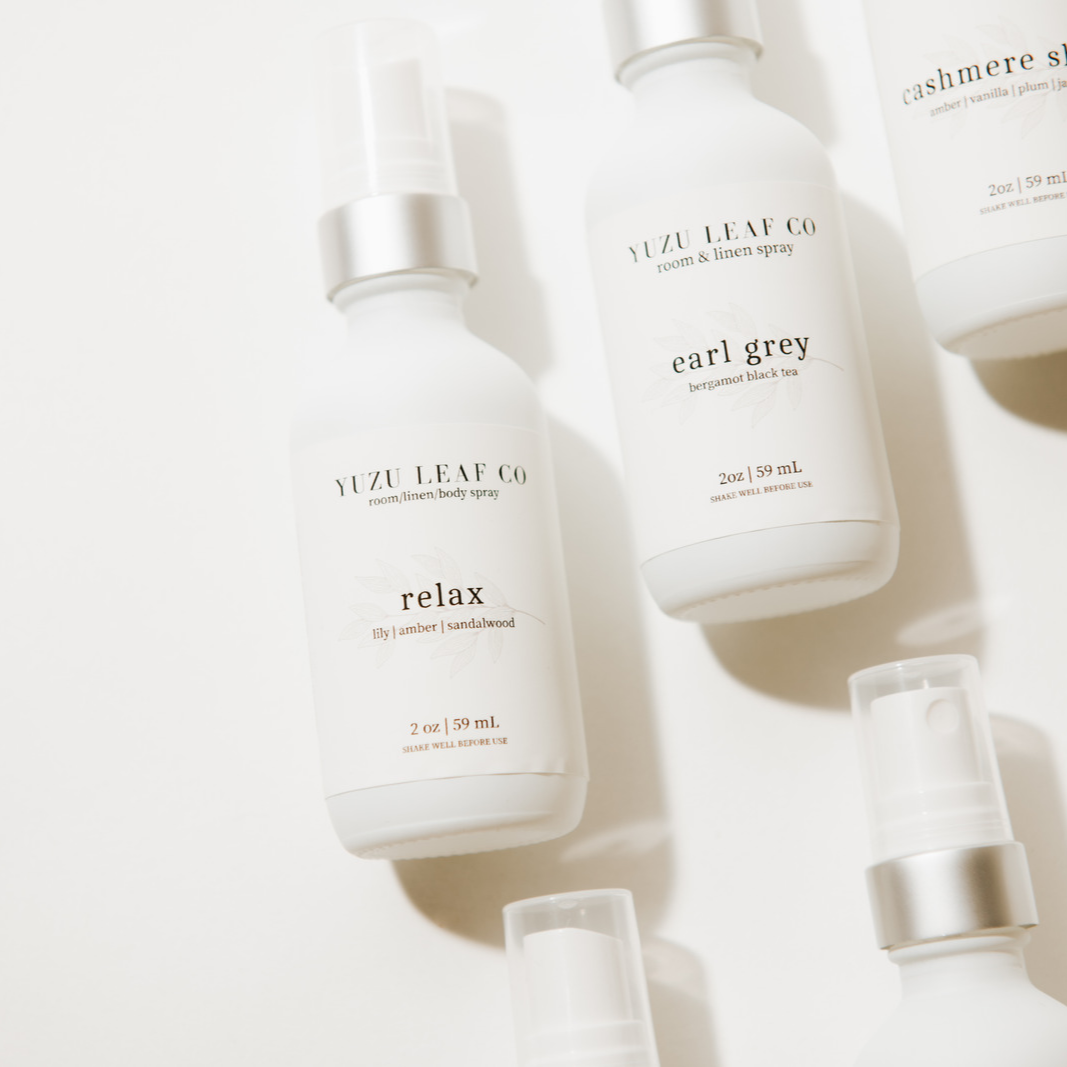 Our goal with our products is to evoke a sense of comfort and freshness. Discover your favorite scent today!