Regular price
Sale price
$38.00 USD
Unit price
per
Sale
Sold out
Share
Note: The vessels are currently matte white rather than clear! Updated pictures will be posted soon 

You always want your home to smell amazing, but you may not always want to light a candle. We have exactly what you need. Our reed diffusers combine the signature Yuzu Leaf Co. scents you love with the convenience of an oil-based diffuser. The diffuser works wonders in the bathroom, but you can place it anywhere in the home. There's no need to worry about blowing out a flame, so you can safely freshen your home day and night for months. Our 4oz diffusers come with 10 reeds and a matte white glass vessel that elevates the atmosphere of your home just as elegantly as our candles. Get yours today! 
SIGNATURE COLLECTION: 

Earl Grey:
• Top: Bergamot
• Middle: Lime, Earl Grey Tea Leaves, Cucumber
• Base: Amber, Musk

Refresh:
• Top: Bergamot, Yuzu, Mandarin, Grapefruit, Satsuma
• Middle: Cardamom, White Tea, Jasmine
• Base: Amber, Oakmoss, Tonka Bean, Musk

Missing You:
• Top: Bergamot, Camphor, Heliotrope
• Middle: Bay Leaf, Vanilla, Fir Needle
• Base: Tobacco, Oak, Sandalwood, Patchouli

Kitchen Window:
• Top: Pine, Eucalyptus, Bergamot
• Middle: Rosemary, Lavender
• Base: Sage, Cedar

Relax:
• Top: Lemon, Apple
• Middle: Jasmine, Lily, Rain Water, Peach, Rose
• Base: Amber, Sandalwood, Musk

Hanayuzu:
• Top: Yuzu, Pear, Mandarin
• Middle: Ylang Ylang, Plum Blossom
• Base: Hinoki, Apricot Wood, Patchouli

Cashmere Shawl:
• Top: Pear, Bergamot, Peach Blossom
• Middle: Warm Amber, Jasmine, Cashmere, Plum
• Base: Musk, Sheer Vanilla, Sandalwood, Sugar, Freesia

Dusty Rose:
• Top: Citrus, Apricot, Plum
• Middle: Rose, Jasmine, Saffron
• Base: Sandalwood, Vanilla, Oak, Patchouli

Unwind:
• Top: Orange Marmalade, Tamarind, Honey, Bergamot
• Middle: Bourbon, Coumarin, Clove, Cedarwood, Bay Leaf
• Base: Brown Sugar, Tobacco

Sweet Citrus:
• Top: Orange, Lemon, Satsuma, Yuzu
• Middle: Grapefruit, Peach, Bergamot
• Base: Red Currant, Vanilla, Oakmoss

Lychee Tea:
• Top: Lily, Geranium
• Middle: Red Tea
• Base: Lychee

Lavender Latte:
• Top: Chocolate
• Middle: Honey, Lavender, Bergamot, Almond, Coconut, Caramel
• Base: Maple, Vanilla, Roasted Coffee Beans, Sugar

Adoration:
• Top: Pink Peppercorn, Grapefruit, Plum
• Middle: Black Rose, Cumin
• Base: Vanilla, Patchouli, Labdanum

SPRING COLLECTION:
Sunshine: 
• Top: Citrus, Basil, Petitgrain, Bergamot
• Middle: Orange Peel, Mint, Chamomile, Jasmine, Neroli, Orange Blossom
• Base: Agave, Tomato Leaf, Sandalwood

Flower Garden
• Top: Grapefruit, White Lily, Rose
• Middle: Gardenia, Jasmine, Cedarwood, Ylang Ylang
• Base: Sandalwood, Vanilla

Farmers Market
• Top: Lemon, Tomato Leaf
• Middle: Sage, Basil, Thyme, Lemongrass
• Base: Green Leaves, Moss
View full details
Collapsible content
Care Instructions

To begin using your new reed diffuser, remove the cap and stopper. Then, screw the silver cap back on the bottle and insert your desired number of reeds. The more reeds you use, the stronger the scent will diffuse. We recommend using a coaster or plate to rest your diffuser on to prevent oil drippings from damaging any surfaces. Place your reed diffuser in high-traffic areas, as this encourages air circulation and efficient scent diffusion. Flip the reeds every 3-6 days to refresh the fragrance, taking care not to spill the oil. Keep your reed diffuser out of reach from children and pets. Do not light the reeds.
Materials

Our diffusers are made with a non-toxic, phthalate-free, and skin-safe blend of high-quality fragrance oils and a diffuser oil base. The reeds are natural rattan reeds.
Dimensions

Bottle: 2 11/16" x 2 11/16" x 3"

Reeds: 1/8" x 10"

Box: 12" x 12" x 3"

Net Volume: 4 oz /118 mL

Total Weight: 13 oz/ 368 g
Shipping & Returns

Please allow around 3-5 business days for your order to be processed. If there are any issues with your order, please contact us immediately. We accept returns and exchanges within 30 days of purchase.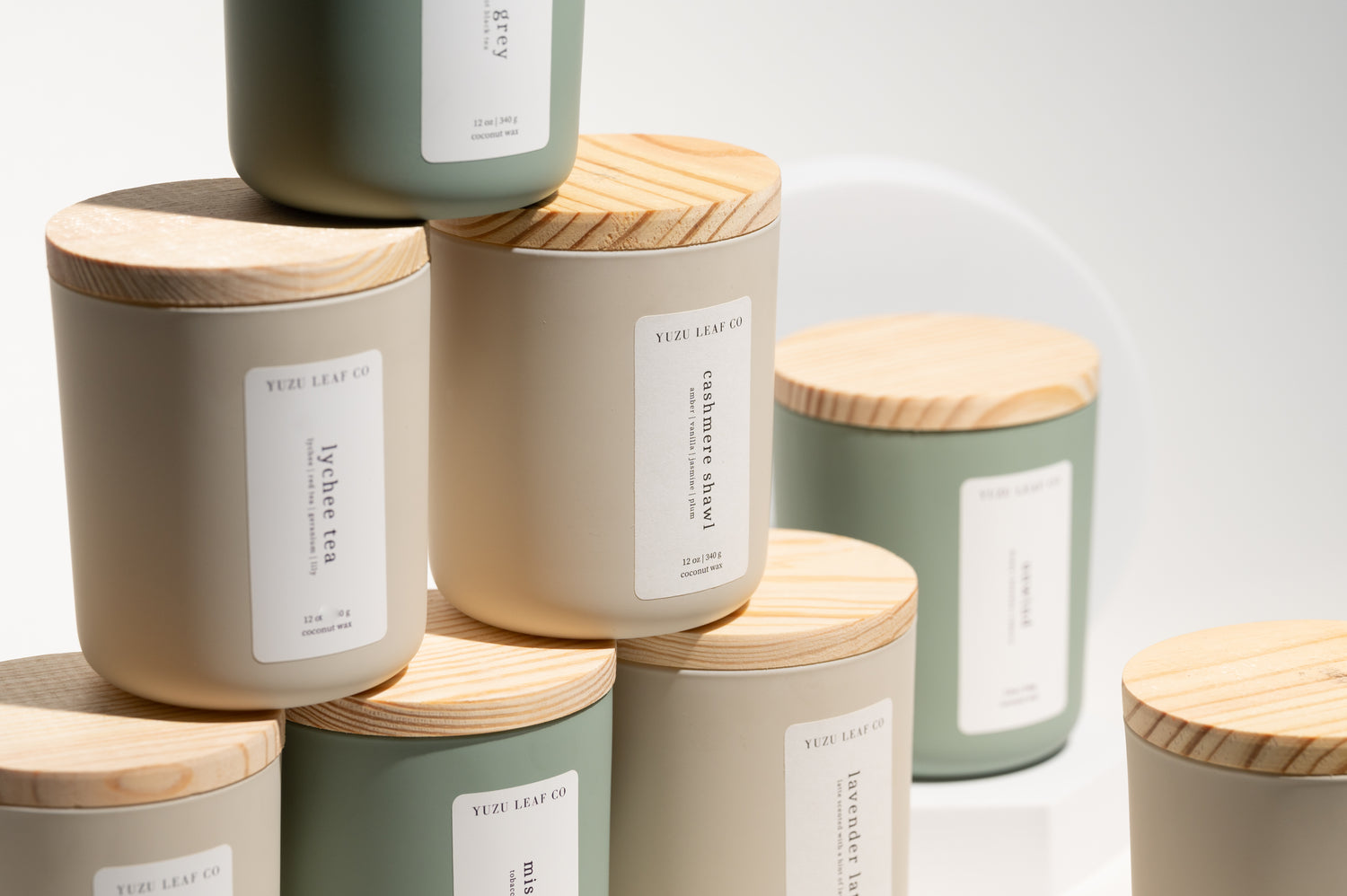 Deluxe Wooden Wick Candles
You Deserve the Best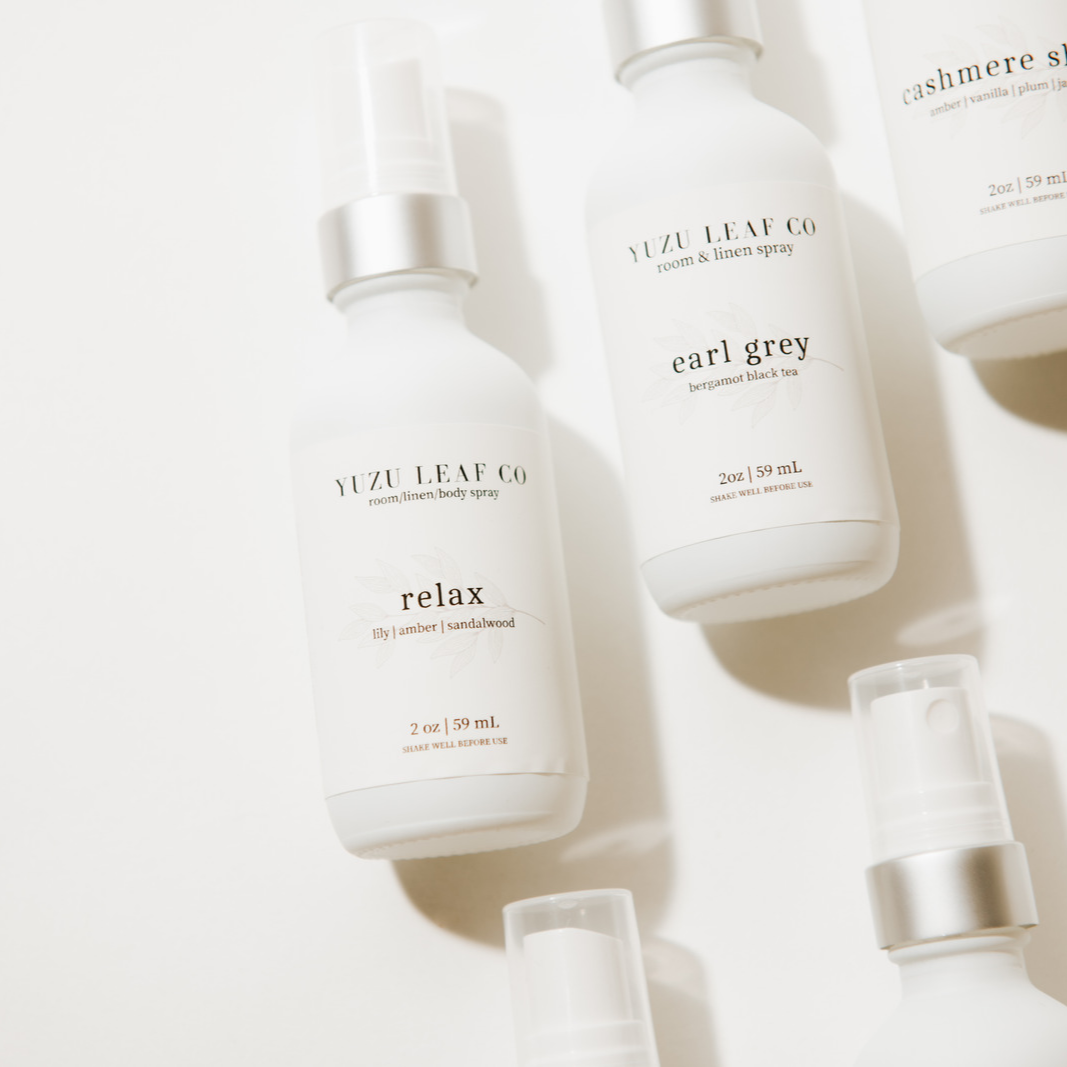 Our goal with our products is to evoke a sense of comfort and freshness. Discover your favorite scent today!